Lego City Undercover - Cheat Codes [Wii U]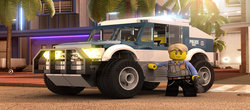 A few tricks to exploit in the fight against crime of Lego City Undercover.
Here is a series of cheat codes to insert in the Lego City Undercover extra menu, with the related cheat effect.

The cheats for bonus missions and vehicles go into the terminal located outside the garage of the police station. The tricks for the characters go into the menu of the big computer inside the police station.

* Character Natalia Kowalski (disguise): HVGTPG
* Race car driver: MHHRHM
* Justice and Red Sports car: 3GCC7XR
* Unlock High Speed ​​Chase & Vehicles Missions: N7NN4F9
* Bonus mission: 3D74QF9
* Baseball Player Character: YCMWKP
* Veicolo Dragon: DWJVCT
* Gorilla character / costume: XKGZVJ
* Relocator Vehicles: VZHHDM
* Samurai warrior character: RJYZHC
* Werewolf Character: GYSTQP
Here is also a video showing how to enter the cheats