Naruto Ultimate Ninja Storm 3 - How to earn infinite Ryo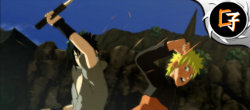 For so much stuff to buy, you need a lot of Ryo points, here is a method to accumulate them in a short time.
As shown in the Unlockable Character Guide, the Ryo earned by playing (Naruto Shippuden Ultimate Ninja Storm 3 in-game coin) gives access to the game's unlockables.
If you do not want to grow a beard waiting to have accumulated the amount required to unlock everything, here is a method that allows you to earn a lot of Ryo in a short time.
- go into free battle and choose P1 Vs P2, very easy difficulty
- set the penalty (handicap) of P1 to maximum
- take Sasuke for P2, you take the character you prefer (Ino recommended)
- choose the Hidden Rain Upper arena (an arena from which you can fall)
- immediately find the opponent with repetition jutsu. in this way you will immediately KO him making him go out of the arena. Within seconds you will have won the match by KO earning around 14.000 Ryo. Look how easy it is
Here's another video, about 400.000 Ryo in 20 minutes