Resident Evil 6 - All secrets and easter eggs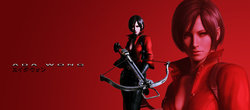 Here are all the secrets and easter eggs hidden by the developers in Resident Evil 6.
How to unlock secret bosses in mercenary mode
All endings + secret ending
Ada Wong campaign plus other unlockables
How to earn infinite skill points
Costumes and characters to unlock in Mercenaries mode
Resident Evil 6 - Infinite ammo cheats for all weapons
And again.....
Reference to Capcom Arcade Classics
Start the Mercenaries mode and play the Urban Chaos level. Leave the starting level building and turn left. Follow the road down and turn left to enter the games room. Inside this room, look at the cabinets. They are all references to classic Capcom arcade games like Star Gladiator, SonSon, Ghosts'n Goblins, Vampire Hunter and more.

Slides and panda rides on the playground
To find this Easter egg, start Chapter 3 of Chris's campaign. When you arrive at the playground you will notice slides and horse-like pandas to ride. Are you wondering if it is possible to use them ??? Give it a try, or watch the video. Where will we end up .......

Zombie hand cooked to perfection
At various points in the game (certainly in Leon and Chris's campaign) we find microwave ovens in the game environment. But did you know that you can cook Zombie pieces in it ???