Dragon Age Inquisition: il Krogan di Mass Effect 3, easter eggs [PS4-Xbox One-360-PS3-PC]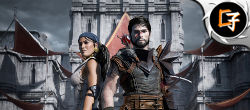 A very familiar alien in the Mass Effect universe makes an appearance in the new creation from Bioware
The Krogan from Mass Effect 3 in Dragon Age Inquisition
The Krogan belong to a particularly violent alien race in the Mass Effect series, known for their brute strength and the sad fate of their society crumbled by a deadly disease that rendered their population sterile, the Genophage.
To find this right away easter egg in Dragon Age: Inquisition load the multiplayer map "Orlesian Chateau" and search the large villa to find a room with a fireplace.
In the next room you will find a trio of animal heads. The bottom two are normal animals, but the third is a krogan. Watch it in the video below and remember to check the Dragon Age Inquisition cheats and guides tab for other guides, solutions and easter eggs about this game.
... and you have discovered other secrets? Feel free to use the comments or post directly in our forum, we will update the guide with your feedback.