Far Cry 4: All References to Movies, Easter Eggs [PS4-Xbox One-360-PS3-PC]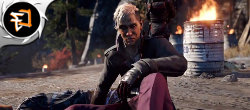 Far Cry 4 is chock full of easter eggs, above all very specific references to other games, movies and even TV series.
In this guide we see several Far Cry 4 easter eggs that make clear references to various Movies. For all the other guides on the game and other easter eggs, don't forget to consult the Far Cry 4 cheats and guides tab.
Predator
During the last mission of Huruk's redemption he will give you instructions to go to the helicopter he has marked on the map with a phrase that is nothing more than a clear reference to the movie Predator, "go to the helicopter".
Star Wars
Here is a real treat for fans of the saga. The unique HS77 weapon is modeled very similarly (a lot) to Han Solo's blaster. Its very name is a clear reference, in fact think that the original Star Wars movie was released in 1977, so Han Solo 1977 becomes HS77! And that's not all, the description of the weapon reads "... to make sure you always shoot first", which is a very clear reference to the eternal debate about who fired first, Han or Greedo.
Gladiator
In the arena the speaker might say "Didn't you have fun?", A clear reference to Ridley Scott's film.
Robocop
Yes, there is also a reference to this film. The description of the AJM pistol reads: "last seen patrolling the streets of Detroit". Detroit is the city where Robocop is set and the man who becomes the cop robotic is called Alex J Murphy, AJM precisely.
... and you have discovered other secrets? Feel free to use the comments or post directly in our forum, we will update the guide with your feedback.