Uncharted 4: All Easter Eggs [The Last of us, Jak and Dexter and more]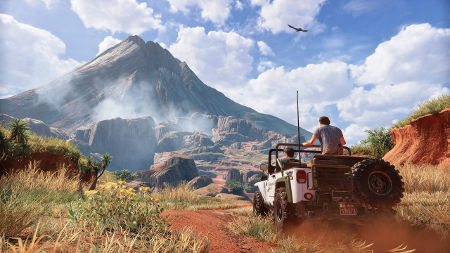 As often happens in their titles, even in Uncharted 4 the Naughty Dog team has included a series of easter eggs / references to other games that have helped build their fame. Let's see what they are and where they are.
Don't forget to also check out the complete guide of Uncharted 4 a thief's end for many other useful guides on the game.
Crash Bandicoot # 1
In Chapter 4 Elena will challenge Nathan to beat his highest score in Crash Bandicoot playing on the original Playstation. For all the details you can also follow our guide to play Crash Bandicoot in Uncharted 4.
Crash Bandicoot # 2
One of the three Strange Relics that can be found in the game is called Strange Fruit, which looks exactly like the Wumpa fruit from the Crash Bandicoot series.
The Last of Us # 1
In the last chapter of the game you can find a poster (supposed to be from a comic) with the title The Last of Us: American Daughters, which shows a girl (Ellie ???) with a nice baby bump? Is this a big joke or is there really some reference to the upcoming The Last of us? Watch it in the video:
The Last of Us # 2
There is a second easter egg always related to The Last of Us. One of the game's weird relics is called the "Strange Pendant" which looks a lot like a TLOU light tag, stamped with the name Druckley on the back. Druckley is basically a combination of Neil Druckmann and Bruce Straley, which is two directors behind Uncharted and The Last of Us. Watch it in the video:
Jak & Dexter
Uncharted 4's third strange relic is also a reference to another of the developers' games. This relic found in Chapter # 12, is a Forerunner Orb which, as you can see in the video below, is an obvious reference to Jak & Dexter.
Monkey Island (reported by Gianluca Dell'Olio in the comments)
In the environmental puzzle with pirate paintings there is the splendid tribute to Monkey Island. You will notice a semi-burnt painting without the engraved name, it is the portrait of Guybrush Treepwood!
Elena is always with him (reported by Gianluca Rauso in the comments)

In madagascar ... when Natan, Sully and Sam are in the jeep, the license plate of the car is VN373. If this writing is reversed it will read ELENA! ;)
... and you have discovered other secrets? Feel free to use the comments or post directly in our forum, we will update the guide with your feedback.